These are some of the products Dr. Kerner highly recommends to patients. Please consult our office staff on which products are best for your particular skin type.

At Deramatique Medical Center for Advanced Skincare, Inc we know how important it is to use sunscreen therefore we offer a wide range of skincare products for sale at our office. Take a look at this video and you can see how important sun protection is to your skin.
COSMEDIX SKINCARE
CosMedix skin care products are the answer to a healthy complexion without irritation. This advanced cosmeceutical line works to enhance the physiology of the skin through the use of only the most purified, chirally correct and effective ingredients that are safe and beneficial for the skin. Known as the chirally correct pioneer.
What is Chirality? 
Chirality refers to the right-handedness and left-handedness of the molecules in our bodies and the ingredients we apply to them. Ingredients that have been chirally corrected have been filtered to contain only molecules that positively interact with the skin. 

In addition to minimizing the risk of allergic or adverse reactions, studies have shown this process to produce ingredients that are up to four times more concentrated than those in conventional brands.
Using the finest natural ingredients, uniquely refined for maximum effectiveness, our products work with your skin to target the most troublesome skin conditions—from acne and rosacea to sun damage and hyperpigmentation—without the irritation or downtime of conventional treatments. Believing each condition to be unique, CosMedix has designed a holistic product line to address your individual concerns both from outside and within.
CLEANSERS

PURITY CLEAN – Gentle Cleanser
Purity Clean is a concentrated, exfoliating cleanser infused with cooling peppermint essential oil, calming lavender and clarifying tea tree oil. This refreshing cleanser penetrates deep, eliminating cellular debris, decongesting pores and hydrating, to keep normal to oily skin healthy and glowing. Great for acne prone skin.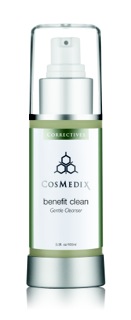 BENEFIT CLEAN – Gentle Cleanse
Free of irritating sodium lauryl sulfate (SLS), Benefit Clean is an immensely beneficial facial cleanser that's gentle enough for even the most sensitive skin types. Formulated with gluconolactone (polyhydroxy acid), this antioxidant cleanser eliminates impurities, hydrates the skin and helps improve the appearance of photodamage.
STIMULATE & REPAIR


Lightening
Lightning: Apply every evening to clean, dry skin for melasma or resistant pigmentation. May use as a concentrated spot treatment unless prepping for a peel or diffuse damage apparent. Daily sunscreen use is mandatory.
Be Sun Smart. CosMedix always recommends daily use of sunscreen to protect skin against sunburn and premature aging. Common Sense Cautions: For external use only. Avoid contact with eyes. Keep out of reach of children.

CLARITY SERUM
This potent serum uses the power of nature to control breakouts, diminish the look of blemish scars and stimulate collagen production. Combining cleansing tea tree oil with clarifying witch hazel, calming willow herb and CosMedix's stimulating proprietary retinol complex, Clarity's unique, active formula makes this remarkable product a must for oily and blemish-prone skin. Net Wt. 30ml

SERUM 16
Containing 16% LG-Retinex—a proprietary GAG-enhanced encapsulation of retinol and retinaldehyde—Serum 16 is the closest thing to prescription-strength age defiance without a prescription. In a six-week clinical study, this breakthrough superserum by CosMedix visibly reduced the appearance of sun damage, age spots and deep lines, including crow's feet.
Clinical Results:
88% reported noticeably firmer skin in two weeks
75% reported less apparent wrinkles in four weeks
Over 90% reported brighter-looking skin in six weeks

Affirm
Supercharged with over ten skin-specific antioxidants, this peptide serum is a must for the correction and prevention of photodamage. Affirm's chirally correct formula actively reduces visible signs of environmental and sun damage for a healthy, firmer-looking complexion. Net Wt. 30ml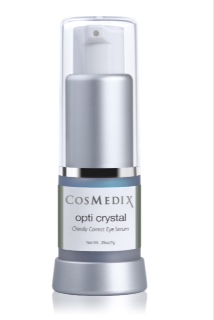 OPTI CRYSTAL – Eye Serum
One of our most popular sellers.  With liquid crystals to replenish damaged, thinning skin around the eyes and growth factors and alpha lipoic acid to dramatically diminish the appearance of eye lines and wrinkles, Opti Crystal (formerly Eye Believe) is the ultimate tool in anti-aging eye care. A chirally correct blend of protective, corrective and cell-stimulating ingredients, this powerful eye serum actively revitalizes delicate skin for a radiant, younger-looking finish.

REFINE – Refinishing Treatment
Refine restores life to environmentally damaged skin to reduce signs of premature aging and improve skin texture and tone. This potent, chirally correct refinishing treatment combines 4% of CosMedix's proprietary retinol complex with key amino acids and powerful moisturizers to help stimulate collagen production without irritating or drying out the skin.

PURE C  – Mixing Crystals for Anti-Aging
100% pure L-ascorbic acid—the only form of vitamin C readily absorbed by the skin—in crystal form, Pure C can be mixed with any cosmetic product or serum to help firm and brighten the skin and prevent premature signs of aging caused by environmental damage.

CELL ID – Intensive Defense Serum
This superior product contains all the ingredients necessary to prevent and help repair the signs of premature aging. It contains growth factors, enzymes, amino acids and antioxidants, as well as the ultimate mitochondria extract to give energy to cells. Formulated to reduce visible wrinkle depth, minimize the appearance of fine lines, enhance the skin's texture and diminish the look of age spots.

CLEAR – Clarifying Mask, Great for pimples and spot treatment
Fortified with a soothing blend of sulfur, minerals and naturally clarifying salicylic acid, this super-absorbent, detoxifying clay mask smoothes away blemishes, reduces excess oiliness and helps support skin immunity without irritation or over-drying.

RESCUE – Balm and Mask
This all-natural balm with cherry extracts, willow herb and shea butter works to soothe irritated and inflamed skin following resurfacing treatments. Rescue immediately calms the skin and helps accelerate post-procedure recovery, letting you achieve your new look at a faster pace.
HYDRATE

Hydrate +
Smooth over damp skin in the morning and throughout the day as needed. Apply frequently when outdoors and immediately after going into water as this product is not waterproof. May be used as primary moisturizer.

EMULSION – Intense Hydrator
This deep-penetrating moisturizer alleviates and helps prevent irritation following aggressive exfoliation. A soothing blend of nature's perfect hydrators—jojoba oil and shea butter—in a unique liquid crystal formulation, Emulsion helps replenish the skin's delicate liquid crystal matrix to revive dry, aging or recently resurfaced skin.

MYSTIC – Hydrating Treatment
Utilizing heavy water (D2O) in place of pore-clogging oils, Mystic is a superior moisturizer for oily and blemish-prone skin. Applied mornings or throughout the day as needed, this refreshing mist offers intense hydration and protection for sensitive and problem skin and can also be used to set mineral makeup.

PHYTOHARMONY – Balancing Moisturizer
This age-defying, ultra-emollient cream helps hydrate dry, imbalanced skin to reveal a dewy soft, younger-looking complexion. Combining powerful peptides with L-Pipecolic Acid and Soy Isoflavones, Phytoharmony revitalizes visibly aged skin while counteracting signs of free radical damage for a supple, more youthful appearance.
PROTECT

REFLECT – SPF 30 Natural Sunscreen
The first titanium, non-chemical, spray-on sunscreen on the market, Reflect offers broad spectrum SPF 30 protection in a non-irritating, oil-free formula. Combining micronized titanium dioxide—nature's own sunscreen—with two skin-specific antioxidants, CosMedix brings spray-on convenience to broad UV protection.
Eye Genius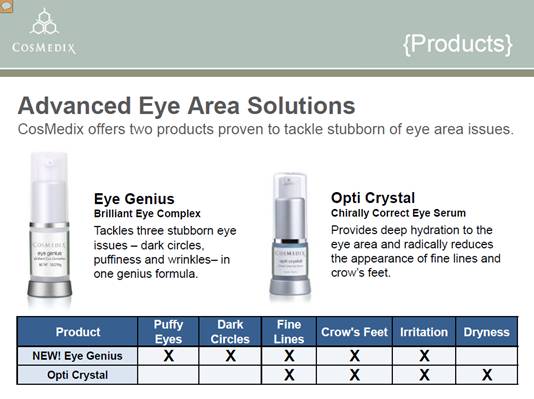 SUNSCREEN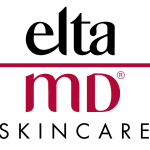 Melanoma is the deadliest form of skin cancer and each year the number of cases United States is growing with more then 3.5 million skin cancers diagnosed annually. The American Academy of Dermatology recommends that everyone use sunscreen with a broad-spectrum protection (protects against UVA and UVB rays), has a Sun Protection Factor 30 or greater and is water resistance. Dermatique Medical Center for Advnaced Skincare, Inc is proud to be carrying EltaMD sunscreens.
EltaMD UV Aero Broad-Spectrum SPF 45

EltaMD UV Aero provides sheer but sure sun protection. This continuous spray sunscreen makes it easy to protect hard-to-reach places. EltaMD UV Aero sprays on white so you can see coverage then dries clear when rubbed in.
3% transparent zinc oxide
Continuous spray convenience
Water-resistant (80 minutes)
UVA/UVB sun protection
Fragrance-free, oil-free, paraben-free, sensitivity-free and noncomedogenic
ELtaMD UV Physical Broad-Spectrum 41 – Tinted


For oil-free sun protection with just a touch of color, our lightly tinted UV Physical is a healthy choice. This chemical-free natural mineral sunscreen has antioxidants to neutralize free radicals. Water-resistant UV Physical withstands water, humidity and perspiration.
0% transparent zinc oxide
Antioxidants help absorb free radicals
Lightly-tinted formula
Water-resistant (40 minutes)
UVA/UVB sun protection
Fragrance-free, oil-free, paraben-free, sensitivity-free, chemical-free and noncomedogenic
EltaMD UV Sport Broad-Spectrum SPF 50

Have your fun in the sun—but play it safe. This sunscreen is great for swimmers, skiers, runners, golfers and other athletes – or for those who just love to be outdoors! UV Sport is water-resistant so it won't rinse off in water or drip into your eyes and sting when you sweat.
0% transparent zinc oxide
Antioxidants help absorb free radicals
Apply to wet or dry skin
Water-resistant (80 minutes)
UVA/UVB sun protection