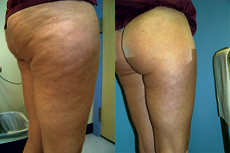 LipoSlim is an exciting new treatment being done at Dermatique Medical Center for Advanced Skin CareÆ in Westlake Village. LipoSlim is a non-surgical procedure that contours, shapes, and slims the body within 8-10, one-hour treatments. Clients treated with the LipoSlimô Body Contouring system have seen dramatic results in their shapes, allowing some to fit in the jeans they once thought hopeless to fit into again. In addition, it is the only FDA approved treatment for cellulite reduction. With our unique approach, we are able to treat multiple areas including, hips, thighs, abdomen, and arms.
It is estimated that 80% of all women over the age of 20 have cellulite, regardless of the size and shape of their bodies, LipoSlim is the safe and effective medical solution for the effective treatment of cellulite. While there are many heat and massage systems available claiming to treat cellulite, the LipoSlim is the first clinically proven and ONLY FDA approved medical device to treat cellulite and non-invasively contour the body. There is no other device on the market that reached the depth of penetration within the skin for delivering energy to reduce cellulite.
LipoSlim is a laser-like medical device with the revolutionary combined-energy technology of Bi-Polar Radio Frequency and Infrared Light – plus tissue mobilization to safely and effectively re-contour skin's surface. The Synergy of these three components makes LipoSlimô the superior medical cellulite solution. Using light energy it heats up the skin then extracts the fatty tissue and massages it out thus shrinking the fat chambers and reducing the wrinkle of your skin. LipoSlim is the first and only medical device that penetrated deep enough into the adipose tissue to effectively treat cellulite and is the first and only class II medical device FDA approved to treat cellulite.
Results will begin at about four treatments but vary from person to person. It is recommended that patients schedule 8-10 treatments, 2 treatments a week. Once a patient reaches his or her desired result, they should then go on maintenance, which will consist of one treatment every 3-6 months. Treatments last 60 minutes and clients experience no downtime. To schedule an appointment, please call Dermatique Medical Center Advanced Skin Care at (805) 230-1111