Causes & Types of Hair Loss: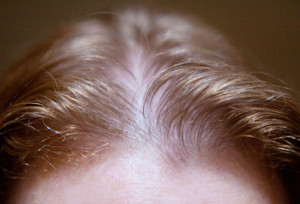 Androgenetic Alopecia:
The Most Common and treatable cause of hair loss

Androgenetic alopecia is commonly called male or female pattern baldness. For many years, scientists thought that androgenetic alopecia was caused by the predominance of the male sex hormone, testosterone, which women also have in trace amounts under normal conditions. While testosterone is at the core of the balding process, DHT is thought to be the main culprit. Testosterone converts to DHT with the aid of the enzyme Type II 5-alpha reductase, which is held in a hair follicle's oil glands. Scientists now believe that it's not the amount of circulating testosterone that's the problem but the level of DHT binding to receptors in scalp follicles. DHT shrinks hair follicles, making it impossible for healthy hair to survive. DHT is the enemy of hair follicles on your head. Simply put, under certain conditions DHT wants those follicles dead. This simple action is at the root of many kinds of hair loss and thus blocking the DHT locally and systemically is a core treatment modality.
Other causes:
Tellogen Effluvium
When your body goes through something traumatic like child birth, malnutrition, a severe infection, major surgery, or extreme stress, many of the 90 percent or so of the hair in the anagen (growing) phase or catagen (resting) phase can shift all at once into the shedding (telogen) phase. About 6 weeks to three month after the stressful event is usually when the phenomenon called telogen effluvium can begin. It is possible to lose handful of hair at time when in full-blown telogen effluvium. For most who suffer with TE complete remission is probable as long as severely stressful events can be avoided. For some women however, telogen effluvium is a mysterious chronic disorder and can persist for months or even years without any true understanding of any triggering factors or stressors.
Anagen Effluvium
Anagen effluvium occurs after any insult to the hair follicle that impairs its mitotic or metabolic activity. This hair loss is commonly associated with chemotherapy. Since chemotherapy targets your body's rapidly dividing cancer cells, your body's other rapidly dividing cells such as hair follicles in the growing (anagen) phase, are also greatly affected. Soon after chemotherapy begins approximately 90 percent or more of the hairs can fall out while still in the anagen phase. The characteristic finding in anagen effluvium is the tapered fracture of the hair shafts. The hair shaft narrows as a result of damage to the matrix. Eventually, the shaft fractures at the site of narrowing and causes the loss of hair.
Traction alopecia
This condition is caused by localized trauma to the hair follicles from tight hairstyles that pull at hair over time. If the condition is detected early enough, the hair will regrow. Braiding, cornrows, tight ponytails, and extensions are the most common styling causes.
Cicatricial Alopecia
Also called scarring hair loss. This is a group of disorders characterized by permanent and pathologic destruction of hair follicle leading to irreversible hair loss. Primary cicatricial alopecia examples include lupus and follicuitis.
Alopecia Aereata
This is an autoimmune disease causing hair loss. Exact pathophysiology not understood. Characterized by alternating patches of hair loss.