Cosmetic denervation is a procedure used to improve the appearance of worry lines, frown lines, crow's feet, laugh lines and so-called dynamic wrinkles. Dynamic wrinkles occur when we smile, laugh or frown, and the delicate muscles underlying aging skin contract. In cosmetic denervation, botulinum toxin (BOTOX® Cosmetic) is injected into these muscles. BOTOX® Cosmetic works by weakening these tiny facial muscles precisely. After treatment, the overlying skin remains smooth and unwrinkled while untreated facial muscles contract normally, allowing normal facial expression to be unaffected.
Though cosmetic denervation is a relatively new treatment for dynamic wrinkles, BOTOX® Cosmetic injections have been safely and effectively used for over a decade for many neurologic and ophthalmologic disorders. The Physicians and Nurse Practitioner at Dermatique have extensive experience with BOTOX® injections. We have performed thousands of BOTOX® Cosmetic injections and were one of the first groups to use BOTOX® Cosmetic for cosmetic purposes.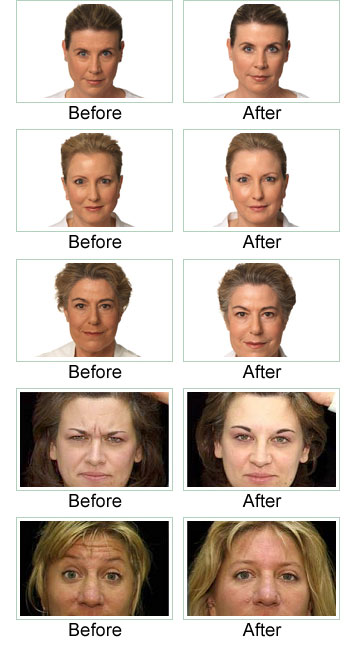 Cosmetic denervation is a simple and safe procedure. A very small amount of BOTOX® Cosmetic is injected with a very fine needle into several locations in the face. Because the needle is so fine and only a small amount of liquid is used, the pain associated with the injections is minimal. Many people say the sensation is similar to a fly or an ant bite. No sedation or local anesthetic is required, and you will be able to drive and engage in all of your usual daily activities immediately after your injections. You may have slight temporary bruising of the skin at your injections sites, but otherwise, there will be no visible signs of your treatment.
Bruising is relatively uncommon, but if it occurs, is usually very mild. Because the medication can sometimes migrate, this may cause temporary weakness of nearby muscles; rarely there can be drooping of an eyelid or asymmetry of facial expression. The risk of any side effects depends on the muscles injected. Because BOTOX® Cosmetic effects are completely reversible, any side effects are temporary, lasting only a few weeks.
If dynamic wrinkles are making you look older than you should, cosmetic denervation can smooth these out and give you a more youthful appearance. However, this procedure will not improve the more common "static" wrinkles that are unrelated to facial muscle contraction. You should also understand that cosmetic denervation will not improve loose or sagging skin and does not serve the same function as a face-lift.
Unfortunately, cosmetic denervation is not a permanent solution to the problem of dynamic wrinkles. Because the injections only last about four to six months, treatments typically should be scheduled two to three times a year.
At Dermatique we have pioneered the use of BOTOX® Cosmetic for areas other than the forehead or between the eyes. We were the first to describe the "BOTOX® Cosmetic Browlift" and we pioneered the use of BOTOX® Cosmetic in lower face, neck and around the mouth.
We also offer BOTOX® Cosmetic specials during our monthly "BOTOX® Cosmetic Parties" where we offer BOTOX® Cosmetic and other services at discounted rates.
The price for one unit of BOTOX® Cosmetic is $13. The following is a list of areas and the number of units required for treatment:
Glabella

20-30 Units

Brow Lift

5-10 Units
(in addition to Glabella area)

Crows Feet

10-15 Units / Eye

Forehead

10-15 Units

Neck

20-25 Units

Corner Mouth Lift

                 5 Units Per Corner
BOTOX® Cosmetic is a registered trademark of Allergan, Inc.
For information on future BOTOX® Cosmetic party dates please contact us at (805) 230-1111.
Read Article of Dr Kerner discussing botox with Highya.com
Dysport
Dysport is a prescription injection for temporary improvement in the look of moderate to severe frown lines between the eyebrows (glabellar lines) in adults under the age of 65.   Prescription Dysport is an injection used to temporarily improve the look of your moderate to severe frown lines without changing the look of your whole face. The untreated facial muscles still work normally, allowing you to freely show facial expressions, such as smiling, in untreated areas.
Dysport is a formulation that has been shown to deliver temporary improvement in moderate to severe frown lines, even with repeat treatments. So, the effect of repeat treatment with Dysport may be comparable to your first use.
Dysport is used for aesthetic purposes in 47 countries.† In the United States, Dysport was studied for safety in more than 2,400 U.S. patients, and today over 200,000 women and men have been treated with Dysport.
With just 1 injection into each of 5 points between and over the eyebrows, Dysport blocks the signal from the nerve to the muscles, ultimately resulting in a reduction of muscle activity and temporarily preventing contraction of the muscles that cause frown lines. You should not be treated with Dysport more frequently than every 90 days.
Treatment with prescription Dysport can temporarily improve the look of your moderate to severe frown lines. Treatment generally takes just 10 to 20 minutes.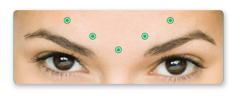 The most common side effects of Dysport treatment are nose and throat irritation, headache, injection site pain, injection site skin reaction, upper respiratory tract infection, eyelid swelling, eyelid drooping, sinus inflammation, and nausea. You should wait at least 90 days between Dysport treatments.
Dr Kerner on the CBS2 news talking about fraudulent Botox clinics.
View Video
Dr Kerner on Berman and Berman talking about Botox®
View Video
Dr Kerner on the KCAL9 news talking about fraudulent Botox clinics.
View Video
Dr. Marc Kerner on KNBC talking about Botox®
View Video